Redbeard's Fireworks Showcase offers Online ordering and in person pick up!
Our products are for sale at our stand off of Yellowstone in Pocatello Idaho. Place your orders from June 1st on and pick up between June 24th daily at 9am-10PM through July 4th.
Unfortunately, we don't ship and only offer products in person during the stand operating times. We will call and text you to confirm a pick up date and time after your order is placed.
Save Money!
Use Promo Code "Save20" to get 20% off of your entire online firework purchase with a minimum purchase of $100. This deal is valid online pre orders from June 24th to July 1st 2024. Not valid with any other offers or promotions.
We will also price match any local copmpetitor's advertised prices and specials on identical items.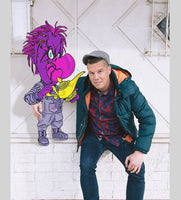 Meet our In House Artist Sean Wright!
A special thank you to Sean Wright for turning Redbeard into a pirate.
He is currently working on a cast of characters and original artwork for a 500 gram firework fountain, "Redbeard's Revenge" premiering this 2024 4th of July season!
Click the button below to see all of Sean's incredible creations on Brain-Pudding.com.
Go see What Sean is all about!
Disclaimer and Conditions For use of Redbeard's Fireworks Showcase Items
Fireworks and Stabilization : Any use of REDBEARD'S FIREWORKS SHOWCASE items items for sale is at your own risk.
Use of REDBEARD'S FIREWORKS SHOWCASE items in an unsafe manner may result in personal injury or property damage.
REDBEARD'S FIREWORKS SHOWCASE will not be liable for any damage or injury resulting from the use of fireworks or any items for sale on this website.