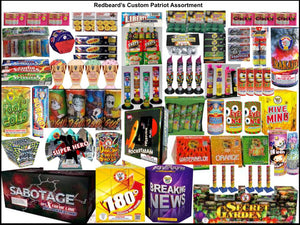 Redbeard's Custom Patriot Assortment by RFS
A hand selected "Shelf Item" assortment with a mix of classic and new effects that Redbeard knows youy will enjoy.  There are plenty of 500 gram fountains as well as low noise fountains and fun novelty items to enjoy.

If you have a budjet of $400, this is the only way to go!
Approximate retail stand prices from Redbeard's Fireworks Showcase $600+.
Your cost is just $375.99 plus tax.
Items may vary with the same overall value.