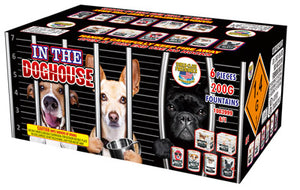 In The Doghouse Fountain Assortment by World Class
Check out this set of 6 power packed fountains exclusive to this set from World Class.
Awesome fountain variety with consistent high quality performances. 6 fountains in this great dog themed fountain box.
Barker- Beautiful golden color, bright red flare, and lots of crackle.
Silly- Featuring crackling and blue stars
Thief- Colorful dog themed fountain firework.
Roughhousing- Featuring blue rain, crackling chrysanthemum, and silver flying dragon effects.
Fabulous- Very colorful jelly bean fountain with dog themed label.
Lover- Golden color with lots of color and crackle.